ASHRM Journal Volume 39, Number 4 Now Available Online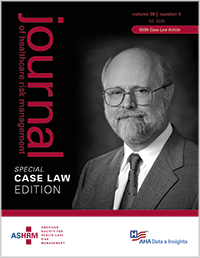 Journal of Health Care Risk Management Volume 39, Number 4 is out now. This special Case Law Edition of the Journal features the 100th case law article by John West, JD, DFASHRM, CPHRM.
Article Highlights:
How case law impacts risk management
What is case law? Why case law is important to risk managers?
Background of case law update
Learning the developments in EMTALA jurisprudence through the len's of John West's "Case Law Update"
Members can now access articles online in a variety of formats optimized for reading articles on your computer, smartphone or tablet. A pdf download of the Journal is also available exclusively to members.